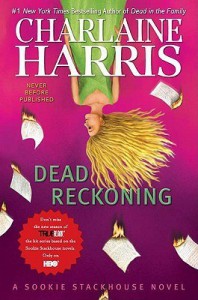 I just read that Charlaine Harris is wrapping up this series after two more books. Thank goodness, because I can't honestly stand more of this barely-on-par stuff. I absolutely loved these books when I first started reading them. Maybe I'm not loving them lately because I have to wait a year for the next one to come out. Or maybe it's because the whole Fae thing doesn't appeal to me, and that really wasn't what I signed up for in the beginning. It could also be that the humor in Sookie's life has just about faded. This one had a couple highlights ("After having sex with him that could go in the Guinness Book of Records?" and Eric's musing about Sookie winning the Miss America tit contest..) but it just didn't have the spunk and life that the previous books had. I will say that it was better than the last one, but still.. that's not saying a whole lot. All the old favorites show up, so that's good.
Sookie really examines her relationship with Eric in this one. She's now seeing the vampire side in his personality - his ruthless killing with no remorse, secrets kept because she isn't a vampire, lack of communication, secrets being kept because she's his vampire wife, etc. She's going to age, he's not. Things will never be normal for them, and now she isn't sure if that's what she wants from life. This leads to some decisions that don't sit well with everyone and create new arising situations.
Sookie also learns a whole lot about her grandmother and the relationship between her grandparents and the Fae. She learns about a gift that could bring her one wish for a loved one. She briefly thinks of Hunter and his gift, since now he's starting school and has to keep this secret to seem normal. Some of these things I didn't see coming, which is great. I like being surprised in books. Either that or getting what I want.
Basically, I'm not sure if I know what I want from these books. I have hopes and dreams for some series books (Succubus Blues), and then I just like to be surprised in others (One for the Money). With these ones, I think I just want Sookie to be able to rest finally.. with someone who cares about her enough to protect her finally or keep the drama out. Probably she would have to be with a normal human to stay practically drama-free. Bill shows up and gives me the thought that he may be more prevalent in her life soon. I hope so anyway. As much as I like Eric, it's mostly for the sexy scenes. I guess we'll see in two-books time what happens with her. Good luck, Sookie.