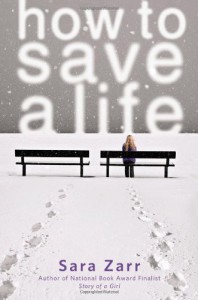 I really enjoyed this novel. I didn't think I would because I felt like it stared a bit slow, but after a while I was really into it. I appreciate alternating POVs, and it's written in present tense, so I super liked it.
Mandy is a flaky, abused young woman who finds herself pregnant and desperate. She doesn't know exactly what she wants, but by using the internet she finds Jill's mom. She wants a baby after the death of her husband, but Jill isn't completely on board. This story is what happens when strangers come together for the good of an unborn human life.
I read the second half of this book in one sitting. Mostly it was because I needed to mail the ARC on to the next reader, but I was also very into the story by then. It took a while, but I really felt for Jill after a while. And Mandy just got on my nerves with all the going back and forth. I wanted more importance from the Alex situation, but it just seemed to be pretty plain. Mandy is kind of a weirdo but you can barely blame her. I did want her to get with someone in particular, but that's okay.
Definitely a recommended novel. It's a different idea for a YA novel. It's a serious topic, and the perspectives make it interesting in the YA sense.